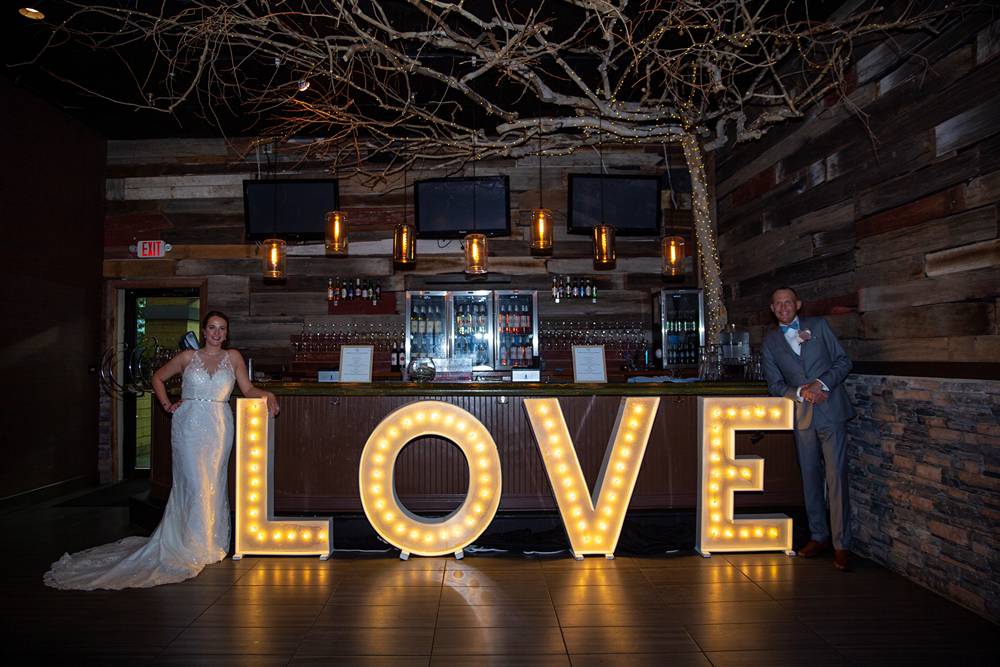 Learning to compromise is the key to a happy marriage… and planning a wedding together is the perfect opportunity to practice your compromising skills.
The old "pick your battles" adage has never been more true. Start thinking about which items on your dream-wedding wish-list you might be willing to compromise on. Conversely, what items on that list are absolute must-haves?
You'll need to be able to negotiate—but the trick is knowing when and how. Step 1 is to marry the right person. While we can't help you choose your fiancé, we can help with everything that comes next.
1. FINDING YOUR VENUE
Every venue has its pros and cons. Your ideal reception location, for example, might have stunning views of the downtown skyline, but your guests might have to pay for parking (if there's even anywhere nearby for them to park at all). Or, you might find a gorgeous venue with ample free parking, but its suburban location isn't exactly what you envisioned.
No venue will have 100% of what you want, so the key is being able to rationally analyze those pros and cons. This is a straightforward, logical approach to choosing your venue—which can sometimes become a very emotional decision.
Take the time to decide what matters most to you and your fiancé. Is it the ease and convenience of an all-inclusive package? Is it the ability to host your ceremony and reception in the same location? What about working with a venue coordinator whom you like and trust? Or the feeling of warmth you get when you walk through the front door?
Whatever it is that matters most to both of you, make that your priority when finalizing your venue selections—and the rest will fall into place. (For even more advice on the subject, check out our guide for how to choose the perfect wedding venue.)
PRO TIP:
Most Central Ohio reception venues are within a 15-minute drive of downtown, so no matter where you end up hosting your reception, you can probably find time to sneak away for a few photos of the wedding party in front of the city skyline.
2. CHOOSING YOUR DATE
It breaks our heart when a couple falls in love with a venue, but the venue is already booked, and the couple isn't flexible on the date.
We understand that certain factors might prevent you from having any wiggle room on the date. But finding the venue can often be the most challenging part of the planning process. So, if at all possible, try to find at least a little room for compromise—even if that means narrowing it down to two potential dates instead of just the one.
Couples who land their dream venues often do so because they find the venue first—and then choose a date based on the venue's availability.
PRO TIP:
Ask the venue if there are any booking incentives. If you're looking at a popular Saturday during the busy summer or fall season, the answer is probably no. But if you're looking at a Friday or a Sunday—or if you're looking at date that's less than eight months out—some venues might be willing to include a free upgrade or two.
3. FINALIZING YOUR MUSIC
If you and your fiancé have similar tastes in music, finalizing your song choices should be relatively easy. More often than not, however, couples have varying musical interests and vastly different song requests. And this is when choosing your music becomes an exercise in the art of compromise.
Here's a good starting point: Each of you should separately create a six-song "must-play list" and a six-song "do-not-play list." Then, compare your lists. When you're done, your goal should be a comprehensive "must-play list" that contains 8 to 10 solid song options (with four or five from each of you).
From there, let your DJ or musician help. He or she can often suggest songs or even whole genres that perhaps neither of you thought about—music that will make you both happy (not to mention your guests too).
If your DJ is good at their job (and he/she should be, since the DJ can make or break the wedding), consider allowing them to have some freedom when choosing specific songs beyond your initial "must-play list." Just give a few guidelines and/or genres to operate within, and then let them do their thing. That's essentially what you're paying for anyway, right?
Keep in mind, too, that your DJ or lead singer will serve as your emcee for the evening. He or she will be responsible for keeping the celebration on track: i.e., introducing the bridal party, announcing your grand entrance, letting guests know when it's time for dinner, and when to cut the cake, etc.
At La Navona, your DJ is automatically included with your reception package! We work with the wildly talented team at D&M DJ Entertainment.
PRO TIP:
Song requests from guests can quickly derail a reception, turning your perfect playlist into a total train wreck. You don't want guests to complain that your DJ is a jerk because he doesn't want to play "Can't Stop the Feeling" for a third time. And it's virtually impossible to create an all-encompassing "do-not-play list." For example, who in their right mind would ever think to include "The Song That Never Ends" on their list of songs not to play? (More importantly, what kind of monster would even request such a song?! Are you singing it now? Yeah, us too. Sorry about that.)
So here's a fun idea: Ask for guests' song requests when you send out your invitations! As the RSVPs come back, you'll get to see all the requests in advance. This will allow you to filter through them before they ever make it to your DJ—and it will save you from doing the Macarena at your wedding. Unless you're into that sort of thing, of course. No judgement.
4. CREATING YOUR "TOP THREE"
Remember that Modern Family episode, when Mitch and Cam are planning their wedding, and they decide they each get three "vetoes"? Well, this is a similar approach—but in reverse.
Each of you should separately create a list of your Top Three Wedding Must-Haves. These are your non-negotiables. They may range from something small ("chocolate cake with raspberry filling") to something major ("writing our own vows").
Just make sure they're at least somewhat realistic. (Good luck with that whole asking-LeBron-to-be-your-best-man thing by the way.) You'll also want to make sure that your Top Three fit within your budget. If, for example, you're looking to spend no more than $10,000 on the entire celebration, it might be cost-prohibitive to purchase your diamond wedding bands from Tiffany & Co.
You get the idea.
Whatever these three must-have items are, you should strive to help make your future-spouse's wedding dreams come true.
If, on the other hand, you both want to instantly veto everything on each other's Top Three Wedding Must-Have list, it might be time to revisit Step 1 (re: marrying the right person).
PRO TIP:
As soon as you announce your engagement, opinion-givers will come crawling out of the woodwork. Trust us. Everyone seems to know someone who just got married, or maybe you have an obnoxious co-worker who got back from her honeymoon just last week.
From wedding dresses and signature drinks to reception locations and "Omigosh, you just have to do this!" décor ideas, everyone will want to give you their input via endless and awkward face-to-face conversations… and Facebook… and email… and text… and Pinterest. (Oh, Pinterest. How we love and hate you, so much. Wait, where did the last four hours go? Is it really 3:00 in the morning?!)
Although it might be easy to politely ignore your nosy co-worker's suggestions, parents and relatives are another story. There's an expression when it comes to weddings: Money buys you an opinion. So… just remember that if your parents are helping you pay for the celebration, then they will more than likely want to give you their opinions—and, frankly, it's well within their rights to do so.
Whenever this happens (and it inevitably will), just ask your parents create their own "top three" lists too! By encouraging them to prioritize the three things that really matter most—a song selection for the father-daughter dance, for example, or letting mom choose your "something blue"—it shows them that you really do care about their input. And it might even help your parents pick their battles down the road—especially when you really want to buy that blush-colored dress, or forgo a traditional cake in favor of a giant donut tower.
---
For more advice on how the art of the compromise can help you and your soon-to-be spouse plan an unforgettable wedding and still live happily ever after, contact La Navona today and speak to our professional wedding coordinators. We're always happy to help!