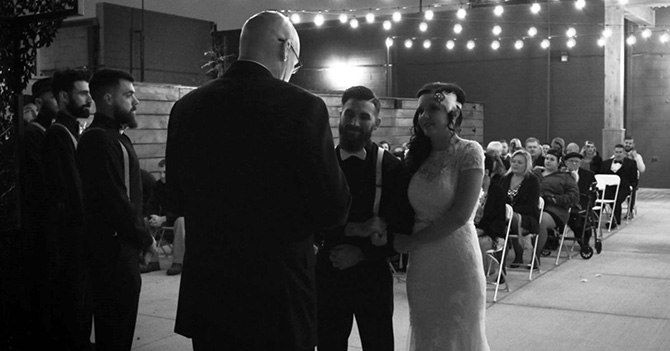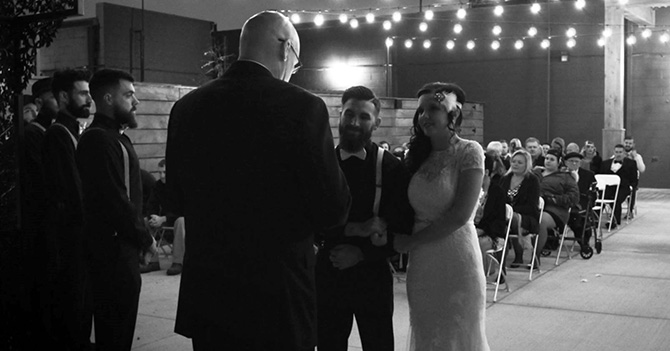 Need help figuring out exactly what is supposed to happen when on the day of your wedding? You're not alone! Most couples struggle with how to build a day-of timeline. And we use the word "timeline" loosely here. Really, you should think of it as more of a "sequence of events."
And, when you begin to think of it that way, you'll feel so much more relaxed. Trust us: No one will be looking at their watch saying, "Ah-ah-ah, it's 8:06 p.m. They should've cut the cake six minutes ago!" (If anyone does behave that way, just tell them they don't get any cake. Problem solved.)
STEP 1: WHEN IS YOUR CEREMONY?
The best way to begin building your timeline is to determine what time you'd like the ceremony to begin. And there are a lot of factors to take into consideration.
Church Wedding
If you're getting married in a church, (especially a Catholic one), you might not have much say in the matter. Most churches will tell you what time you're getting married. And that's OK! You can still build your timeline from there.
Outdoor Ceremony
Are you getting married outdoors? If so, do you imagine a sun-filled mid-afternoon ceremony or ambient dusk lighting during the nuptials? Either way, you'll want to figure out what time the sun will set on your particular wedding date and go from there.
Start Time?
There's also an old superstition that says the minute hand of the clock should be moving in an upward motion during the ceremony, which means you would want to start at half-past the hour for good luck — if you believe in that sort of thing, that is.
Just make sure guest arrival is scheduled for at least 15 minutes before you walk down the aisle.
That way, even if a few guests are running a few minutes behind (which is always the case), they won't walk in late and interrupt your vows.
When should you start getting ready?
Based on when the ceremony begins, you can then figure out what time you'll need to start getting ready. Are you doing your own hair and makeup? Or are you hiring a professional? Are you going to a salon? Or is the stylist coming to you?
Also: Do you want any photos of the getting-ready process? What about photos with your bridal party after you're dressed but before the actual ceremony?
Speaking of photographs…
STEP 2: HOW MUCH TIME DO WE NEED FOR PHOTOS?
Most post-ceremony photo shoots take at least an hour, depending on how many people are in your bridal party and how many different images you'd like to try to capture.
If there's a picturesque location at or near the ceremony or reception site, this could help save quite a bit of time. Or, if you can knock out some of the photos with your bridal party before the ceremony, this will also save time after the ceremony — so that you can focus almost exclusively on getting shots of you and your new spouse post-vows.
What's a "First Look"?
Or, instead, a lot of couples are opting for what's called a "first look" photo shoot. If you don't believe in superstitions (especially the one about it being bad luck to see your beloved before the ceremony), this could be a great option for you! It's a beautiful, private moment between the couple—with the photographer on hand to capture the whole thing, of course.
"First look" photos can help ease some of the typical wedding-day jitters, and it can also help get you to your reception faster. But keep in mind that the first hour of your reception isn't for you anyway… it's for your guests!
Most couples find that, after they get their photos back, they prefer the candid shots over the posed ones anyway. So if it ends up that you don't have quite time to do every single posed photo you had in mind, that's perfectly OK! Don't stress. You're still going to have plenty of wonderful photos from your wedding, with memories that will last a lifetime.
STEP 3: WHAT TIME SHOULD WE BEGIN THE RECEPTION?
Good question! If your ceremony and reception are at the same location, your reception should begin at the immediate conclusion of your ceremony. If guests are traveling from the ceremony location to a separate location for the reception, your reception should still begin at the "immediate" conclusion of your ceremony (adding on the time it will take them to drive there, of course).
Bridge the gap between ceremony and reception
Please… we beg of you, please do not plan a big gap of time between the ceremony and the reception so that you have more time to take photographs. Think about it from the perspective of your guests — some of whom may have traveled long distances to be with you, and some of whom may not have anywhere else to go while they're killing time between the ceremony and the reception. (Nine times out of ten, guests will show up to the reception early, but venue won't be ready for guests to come in yet.)
Brides and grooms almost always miss at least the first half of cocktail hour… and that's OK! The hors d'oeuvres and wine are for your guests, to keep them happy and entertained while they're waiting for you to arrive. They know you're off somewhere taking photos… and they know that's what cocktail hour is for! They'll be able to have a good time without you for a while, as they're mingling and chatting with mutual friends and family, awaiting your arrival and grand entrance.
What about a Friday Wedding?
If you're planning a Friday wedding, the ceremony and reception should begin in the early evening hours (e.g., 6:30 p.m. ceremony, with a 7:00 or 7:30 p.m. reception) so that your guests have time to leave work, change clothes, and drive to the ceremony site.
Sunday weddings are an option too
If you're planning a Sunday wedding, the ceremony and reception should begin a little earlier in the day (e.g., 3:30 p.m. ceremony, with a 4:00 or 4:30 p.m. reception) so that your guests can enjoy the entire reception and still get home at a reasonable hour to get up and go to work the next day.
STEP 4: WHAT TIME SHOULD WE SERVE DINNER
Hors d'oeuvres are key. Guests' stomachs will be growling by the time they get to the reception, and no one wants to see dear Aunt Sally down two glasses of chardonnay on an empty stomach. So the more hors d'oeuvres you serve, the longer you can delay dinner.
BONUS POINTS: La Navona's wedding packages automatically include your choice of any two hors d'oeuvres, with one of your selections butler-passed if possible at no additional charge.
Dinner should be served shortly after your arrival at the reception venue.
If your reception starts at 7:00 p.m., plan for cocktail "hour" to last until 7:45 or 8:00 or so, with your grand entrance a few minutes after 8:00. Dinner service would start by approximately 8:15.
Most caterers and reception venues typically need approximately 45 minutes to an hour to complete a dinner service, depending on the number of guests, the number of courses, and the type of service (i.e., buffet vs. family-style vs. individually plated).
STEP 5: WHAT DO WE DO WITH THE REST OF THE TIME?
How long do wedding receptions last?
Most receptions last 5 hours. Assuming cocktail hour is an hour, and dinner takes about an hour… That leaves 3 whole hours to fill (and, really, your first dance will only take about 5 minutes).
What's next? Dance party.
Here's where your DJ can help you to flesh out the rest of the timeline — with traditional wedding events (e.g., cake-cutting, father-daughter dance, bouquet toss, etc.), or a few fun and unique activities (like a quick round of the Newlywed Game or "the anniversary dance"), or a mix of both. Photo booths are fun too.
A great DJ will know how to get the party started — and keep the party going! — by reading the crowd and choosing tunes that encourage even the most rigid of wallflowers to get up and dance.
BONUS POINTS: La Navona's wedding packages automatically include your DJ. We work exclusively with the incredibly talented and experienced folks at D&M DJ Entertainment.
STEP 6: WHEN SHOULD WE END THE RECEPTION?
Since, unfortunately, "NEVER!!!" isn't a realistic option, we would suggest an end time of 11:00 p.m. or midnight. Again, this is all based around the start time of the reception. Most receptions are 5 hours, which means a 7:00 p.m. start time equals a 12:00 a.m. end time.
You'll want to confirm this information with your venue
Some spaces might have to operate within a city's noise ordinances, meaning the music stops at 11:00 p.m., period, end of story. Other spaces might have a liquor license that only allows the booze to flow until midnight. And each venue is different, so make sure to ask these kinds of questions during your site tour.
If you need any additional help planning your wedding-day timeline, please contact La Navona for assistance. Our dedicated wedding coordinators are happy to share their advice and expertise with you. We truly believe planning a wedding should be fun — and as stress-free as possible!